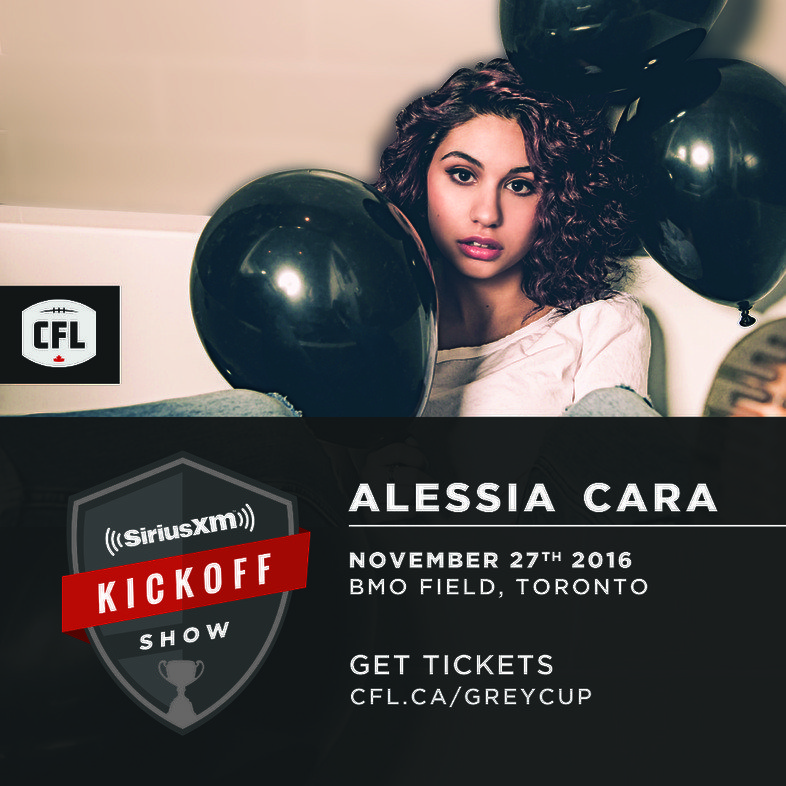 The Canadian Football League (CFL) announced today that Canadian singer-songwriter and Juno award-winner Alessia Cara will be performing at the SiriusXM Kickoff Show at the 104th Grey Cup presented by Shaw on November 27th in Toronto. PRP is proud to produce the Kickoff Show for the seventh consecutive year.
Cara will be hosting a Facebook Live chat from Salt Lake City today at 2:30pm M.T. (4:30pm E.T.) with CFL digital host Brodie Lawson.
An Ontario native, Cara won Breakthrough Artist of the Year at the 2016 Juno Awards and was shortlisted for the BBC Music "Sound of…" Award. Yesterday she was nominated for the New Artist of the Year American Music Award. Her debut single "Here" from her studio album "Know-It-All" is certified platinum and reached #1 on Top 40 and Rhythm Radio.
Her third single "Scars To Your Beautiful" is currently in the Top 15 on Canadian radio and climbing. She is currently on a headlining tour across North America.
"I can't wait to perform at home in Toronto," said Cara. "It's going to be an incredible experience."
"We're proud to be opening the Grey Cup celebration with such an exciting young artist. Alessia Cara has had an incredible year, and we know she'll put on a fantastic show," said Paul Cunningham, SVP, Sales & Marketing for SiriusXM Canada. "The SiriusXM kickoff show will do what we do best: bring Canadians together to share great new music and enjoy football."
"We're so excited to have such a talented local artist be a part of our celebration," said Christina Litz, CFL SVP of Content & Marketing. "Putting homegrown talent in the spotlight and bringing the country together to celebrate is what the Grey Cup and the SiriusXM Kickoff concert is all about, and I can't imagine a better way to get the party started."
The 104th Grey Cup presented by Shaw will be played at BMO Field in Toronto – the first outdoor CFL championship game in Toronto since 1982. For tickets, please visit www.cfl.ca/greycup.